Jewish artists played an important role in the development of the Romanian art, and artists from Romania played an important role in the history of Israeli art. For the Israeli Independence Day I chose to present a short selection of Israeli artists (painters and sculptors) who were born in my native Romania. Some have brought an important contribution to the development of the Israeli artistic movement and acquired fame both in Israel and world-wide. A few are still active today, and of course, I must have missed many.
I chose one work from each of the eight artists in this list. This is certainly only a specific section of the complex universe of the Israeli art, a proof of its diversity, and a testimony of the path artists born in Romania melded the education and traditions of their native country into the melting pot of the Israeli art.  This is an invitation for entering the worlds of each of these artists and for adding more names to the list.
Happy Independence Day! Hag Atzmaut Sameakh!
The list cannot begin with another name than …
Marcel Janco

(or Marcel Iancu) as the Romanians spell his name. By the time when he reached the shores of Palestine under British Mandate in 1941, Janco was a well-known artist who has contributed to the birth of the European avant-garde and specifically of the Dadaist movement, and a famous architect with tens of buildings designed in Romania (some of them can still be visited in specialized tours in Bucharest). He also was a Jew running for his life from the continent that had fallen under fascism which did not spare Romania, at that time under the rule of the Iron Guard and of nationalist and antisemitic dictator Ion Antonescu. He re-created himself in Palestine and then Israel, started to paint in a new palette and vision, and founded the artists community in the village of Ein Hod, which continues until today.
Reuven Rubin
Born in Galati in a religious family, Rubin came for the first time to Palestine (still under Ottoman rule) in 1912 and was a student at the Bezalel Academy founded by Boris Schatz. He was not very happy with the academic approach of his teachers, and continued his studies in Paris, returned to Romania during the First World War, then came for good to Israel in 1923. His portraits and landscapes are exquisite, as witnessed by the beautiful 'Safed' dated 1938. He became part of the Tel Aviv intellectual and art circles, and after the foundation of Israel in 1948 was the first official Israeli diplomatic envoy (minister) to Romania.
Avigdor Arikha
I first encountered a large selection of Arikha's works at the British Museum to whom he had donated about 100 of his works for an exhibition. A few years later a big retrospective was organized at the Tel Aviv Museum of Art bringing back into the center of the attention an Israeli artist who was living abroad for about half a century. Born in Radauti, he was deported during the war to Transnistria, where his father died. His drawings as a teen who had seen death and horror attracted the attention of the Red Cross that saved his life and brought him to Palestine in 1944. As Rubin (but many years later) he first studied at Bezalel, and then in Paris. His career can be divided into two: a first abstract period and a second figurative in which he painted mostly portraits and especially self-portraits like the one here.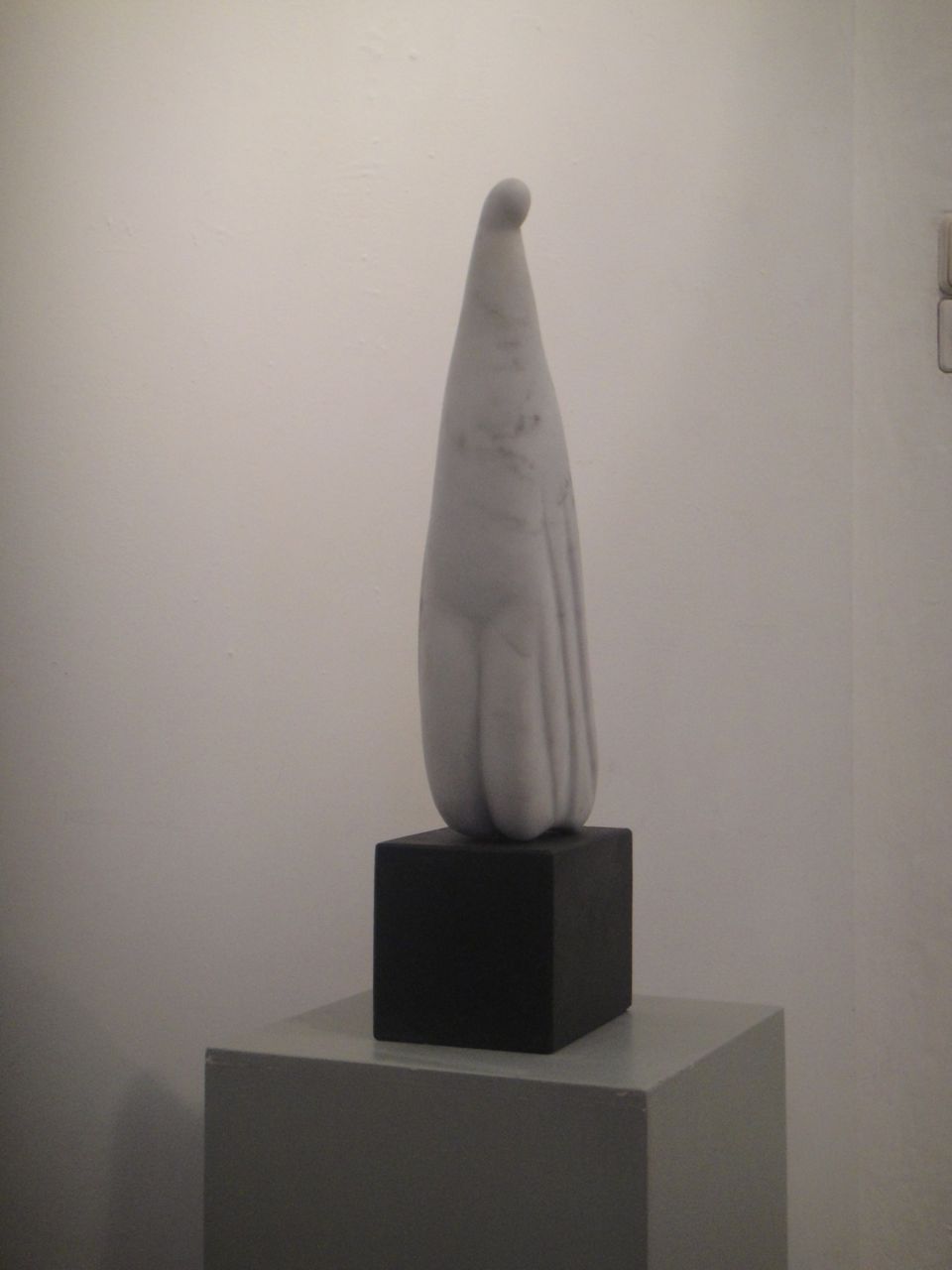 Tuvia Juster
In a few days there will be ten years since Tuvia Juster passed away. Born in 1931 in Braila, Juster studied in Bucharest and was influenced by the works of Constantin Brancusi, one of the greatest artists of the 20th century. His work is in danger to be forgotten here in Israel. Only one exhibition was organized at Ein Hod, the artists village founded by Janco, where Tuvia Juster also had his home. A larger retrospective would put his works and contributions to the Israeli art at their right place. I hope that this will happen rather sooner than later.
Sandu Liberman
A few decades ago the name of Sandu Liberman was quite well known. Born in Iasi in 1923, he studied in Romania and was well known especially as portraitist, until 1962 when he came to Israel. He continued his activity here, painting portraits and scenes from the traditional Jewish life. His best works as this 'Portrait of a Smiling Boy' show empathy and skill in rendering the feelings of his subjects, and continuity with the portraits tradition in the Romanian art he grew in as an artist.
Shlomo Alter 
Shlomo Alter's parents owned a restaurant in Romania and his first drawings described the atmosphere of that place. He came in Israel in 1948 at the age of 12, and oscillated between art (student of Aaron Avni and of Janco) and engineering, to dedicate himself completely to painting after 1975. His works are beautifully colored in the tradition of the fauvism, while representing the local landscape in a pseudo-naive manner.
Philip Rantzer
Born in 1956 (in some sources I found 1958 as his year of birth) Philip Rantzer came to Israel as a small child, so all his education and formation as an artist happened here. He had tens of exhibitions in Israel and all over the world, represented Israel at the Venice Biennale in 1999, and exposed amng many other places in Bucharest, at the Musuem of Contemporary Art in 2003. I picked to show here his 'Big Cart' work because he is combining in it the theme of the Wandering Jew with a landscape which is maybe Jaffo, or maybe a more generic shtetl.
Belu-Simion Fainaru
Born in Bucharest in 1959, Belu-Simion Fainaru came to Israel in 1973. He studied at Haifa and continued with studies in art in Italy and Belgium. He lives and works in Belgium and Israel. His earlier work 'Sham' ('There') from 1966 represents one stage in the evolution from monumental sculpture to the mixed media objects. He exposed in Israel, Romania, other countries in Europe. In 2015 he founded AMOCA – the Arab Museum Of Contemporary Art in Sakhnin (an Arab town in Israel) the first of its kind here, promoting co-existence between Arab and Jewish communities, opening gates for art that is inclusive and collaborative.