Sun 8 Jan 2017
We enjoyed last night one of the best concerts in the last few years in the 'Hot Jazz' series at the Tel Aviv Museum of Art. The band was composed of fine American and Israeli musicians who got together for a very satisfying performance. Antonio Hart – the band leader tonight – is an accomplished saxophonist and a recognized jazz teacher, he demonstrated personality and musical skills that cover many jazz genres fusioned in a free envelope. Wayne Tucker is one of the finest trumpet musicians I have ever listened to, his sound succeeds to be both crisp and silky. Hila Kulik grew up during her New York years from being a great talent to the status of a fine musician, and was tonight completely at peer with her American partners. Tamir Shmerling was a revelation at bass, I am looking forward to hear great music from him in the coming years. Shay Zelman drummed as he always does.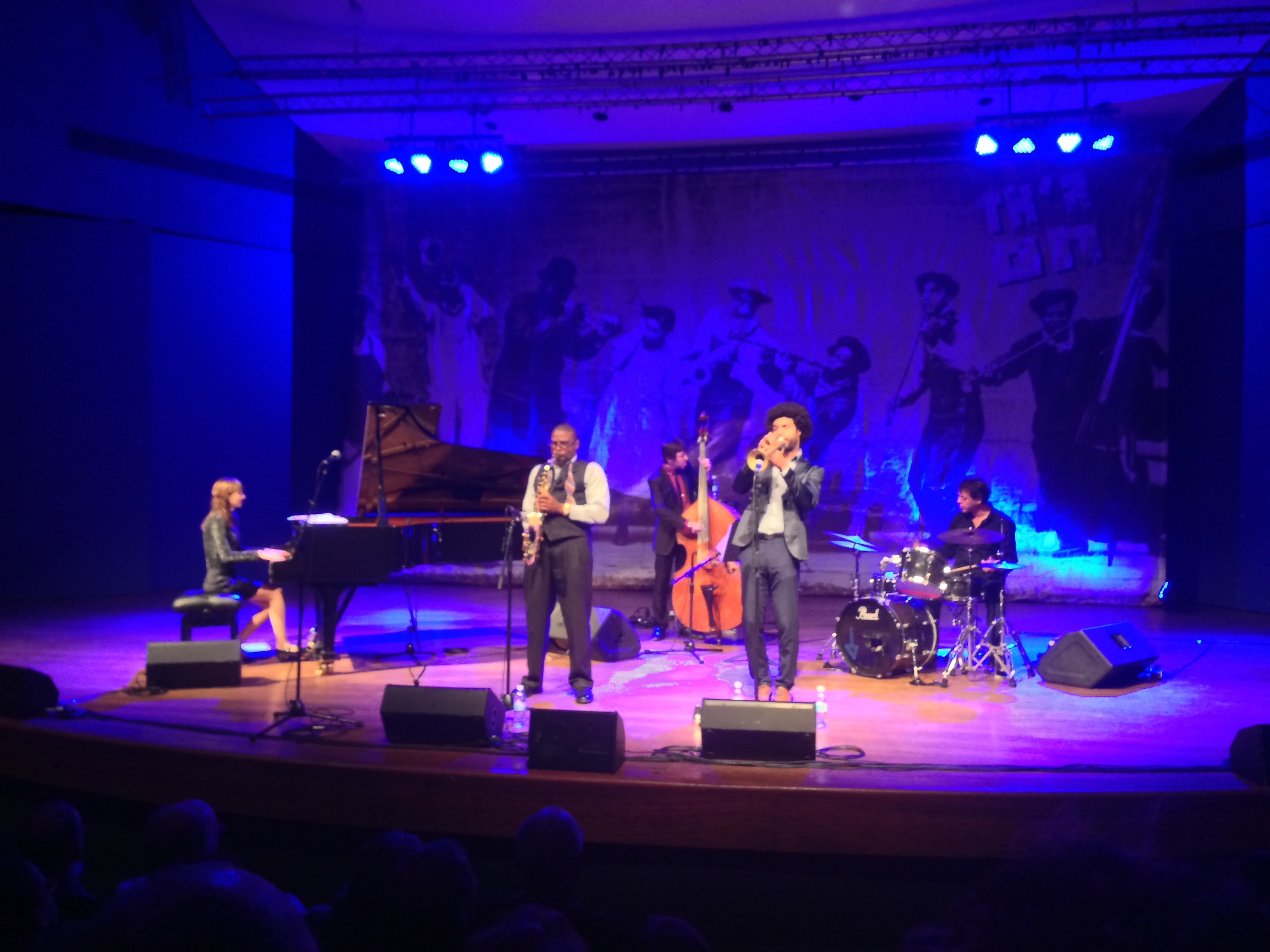 A sample of Antonio Hart's music – 'Stars Fell on Alabama' recorded at the 2010 Taichung Jazz Festival.
'Stars Fell on Alabama' is a jazz standard composed by Frank Perkins with lyrics by Mitchell Parish. Singers like Ella Fitzgerald with Louis Armstrong, Frank Sinatra, Billie Holiday, Anita O'Day, and Dean Martin interpreted it, with musicians such as John Coltrane, Stan Getz and Ben Webster providing their own versions of the musical score.
The Taichung jazz festival is held yearly in Taiwan since 2003.
More about Antonio Hart:
'Antonio Hart has been long recognized as one of the most talented instrumentalist of his generation. In recent years he has been recognized as an important jazz educator. In his 20 years as a professional musician he has performed and recorded with many jazz greats from Dizzy Gillespie, Roy Hargrove, Nancy Wilson, Nat Adderley, and McCoy Tyner to Dave Holland. Hart's study of Jazz began at the Berklee College of Music in Boston. There, he studied with Bill Pierce, Andy McGhee and Joe Viola. The three teachers gave him the foundation he needed to develop into a professional musician. Because of the lessons learned at the Baltimore School for the Arts, Hart really thought it was important to have a balance between music and academia, so in his sophomore year he became a Music Education Major. He made many friends at Berklee, but the most important was Roy Hargrove. They spent three years touring the world and recording Hargrove's first three records. Hart considers Hargrove to be his brother in life and music. He even used Hargrove on his first recording "For the First Time". After graduating from Berklee College of Music, Hart also worked on a Master's Degree at Queens College. There he had the opportunity to learn from the great Jimmy Heath and Donald Byrd. Hart felt blessed and honored when Mr. Heath produced his second recording "Don't You Know I Care." His 1997 release, 'Here I Stand' Impulse records, earned Hart a 1997 Grammy nomination for "Best Jazz Instrumental Solo' He has also been in much demand as a guest on over 100 recordings, and seven CDs as a leader. The latest, 'All we Need' Chiaroscuro Records. After 12 years at Queens College Hart was promoted to Full Professor. Hart also maintains an extensive performance schedule and continues to conduct workshops and clinics throughout the United States, Europe and Asia. He feels very blessed to have the balance of teaching, as well as, traveling around the world. In his off time, he practices martial arts, and listens to other styles of music for inspiration. Hart is constantly trying to honor his many teachers by continuing to study music and teach to the best of his ability.'
(source http://antoniohart.com/about-us/)
https://www.youtube.com/watch?v=sBSTUvLg6Y8
When I first heard Wayne Tucker I immediately fell in love with the sound of his trumpet, his perfect mastering of the instrument, the sensibility and power of his interpretations.
Here he is playing solo a British popular song written in 1939 with lyrics by Eric Maschwitz and music by Manning Sherwin named "A Nightingale Sang in Berkeley Square". Written shortly before the outbreak of WWII the song became soon very popular in Great Britain being first performed in the London revue New Faces by Judy Campbell (the mother of Jane Birkin). In the US Glenn Miller and His Orchestra recorded the song with a Ray Eberle vocal in New York City on Oct. 11, 1940. Fritz Lang used the music in a 1941 film. Later it became one of the most popular songs associated with WWII on both sides of the Atlantic, with singers like Rod Stewart, Perry Como, or Petula Clark offering their versions and bands like Glen Miller's, Brian Setzer's and Sonny Rollins' offering their instrumental versions.
(source https://en.wikipedia.org/wiki/A_Nightingale_Sang_in_Berkeley_Square)
https://www.youtube.com/watch?v=cjFjfADjuXM
Hila Kulik and Wayne Tucker playing music together.
The song belongs to the Israeli popular music composer Sasha Argov (1914 – 1995).
The youTube recording is dated November 2015.
https://www.youtube.com/watch?v=wBVo2IZr7qY
No Responses to " Hot Jazz with Antonio Hart, Wayne Tucker and Hila Kulik "